Engineered to utilize the electrical capacity already onboard, the Trojan Marinex Ballast Water Treatment system offers the lowest installed power draw while covering the full range of conditions encountered in ports. Drawing on 40 years of water expertise, our UV technology is designed for greater efficiency, allowing seamless integration into your existing electrical infrastructure.
Consistently Lower Power
We have engineered our solution to treat ballast water with a low and consistent power draw, regardless of the port of call. It's all about delivering better electrical efficiency through advanced UV lamp technology.
Lowest installed power draw
Not impacted by salinity, temperature, or pH
Effective in ports around the world – tested and approved to treat extremely turbid water down to 44% UVT (learn more about UVT)
Engineered Efficiency
As the world's largest UV water treatment company and over one million UV lamps in operation, the lamp technology incorporated into the Trojan Marinex Ballast Water Treatment system is second to none.
The most efficient UV lamp in the industry
Over three-times more efficient than medium-pressure lamps
Reduced waste heat, operating at only 100°C (other lamps operate at ~800°C)
Optimal UV Wavelength
By concentrating our UV output to 254 nanometers, our lamp is producing the most effective wavelength for destroying the reproductive capabilities of organisms in ballast water. This renders them unable to grow, colonize or cause an infestation.


Seamless Flow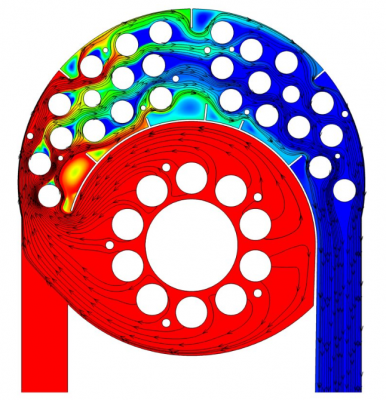 By utilizing advanced Computational Fluid Dynamics (CFD) modeling and robust land-based and shipboard testing, we have achieved optimal UV lamp spacing and performance.
Spacing between each Solo Lamp is close and internal baffles move water towards the lamps
Stabilizes the flow around the lamps, ultimately optimizing disinfection performance in poor water quality
Ensures that any organisms passing through the UV chamber will be exposed to a high and consistent dose across the entire UVT range
More Reasons Why
Here are a few more reasons why shipowners are selecting the Trojan Marinex Ballast Water Treatment system: