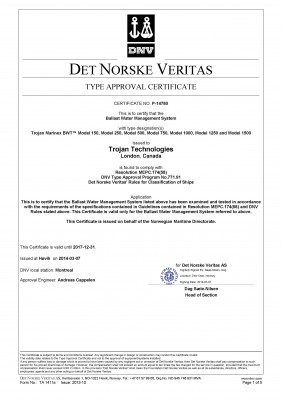 We are excited to announce that the Trojan Marinex Ballast Water Treatment (BWT) product suite has obtained International Maritime Organization (IMO) Type Approval from Det Norske Veritas (DNV) on behalf of the Norwegian Maritime Directorate.
Rather than focusing on being among the first to get IMO Type Approval and testing to minimum standards, focus was instead put on the continual refinement of the BWT technology and a robust testing protocol. We performed our certification process, in every way possible, to the rigorous standards required by the United States Coast Guard, supporting our goal of achieving U.S. Type Approval this year.
Five differentiating facts about our IMO Type Approval
Testing was conducted under the supervision of DNV, who is now certified as an Independent Lab (IL) by the United States Coast Guard (USCG), in accordance with United States Environmental Protection Agency (USEPA) Environmental Technology Verification (ETV) Ballast Water Protocol. The ETV protocol is a key testing requirement for systems to obtain USCG Type Approval.

Land-based testing was completed at the DHI Maritime Technology Evaluation Facility in Hundested, Denmark and shipboard testing was completed on board the Training Ship Golden Bear (TSGB) – both are now part of DNV's network of subcontractors approved by the USCG for testing BWT systems.

Tested and approved to one of the lowest UV transmittance values (poor water quality) in the industry under full flow conditions, meeting the requirements of IMO Circular BWM.2/Circ.43c (Guidance for Administrations on the Procedure for Evaluating an Application for Type Approval of a Ballast Water Management System).

Land-based testing was conducted up to 1250 m3/h to verify the efficacy of the system at higher flow rates, meeting the requirements of IMO circular BWM.2/Circ.33 (Guidance on the Scaling of Ballast Water Management Systems). To date, this is the largest flow land-based test of a BWT system.

Tested and approved in all three salinity ranges – brackish, fresh and marine.