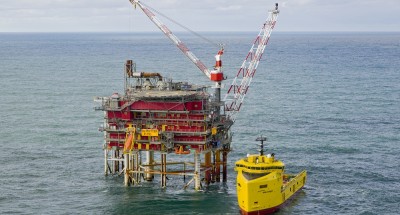 We are proud to announce that Damen Shipyards has selected the Trojan Marinex Ballast Water Treatment (BWT) system for a fleet of Platform Supply Vessels (PSVs) it is building for Atlantic Towing Limited – a Canadian-owned marine transportation company.
"It's been an exciting year for us," says Marv DeVries, president, Trojan Technologies. "Our entire product suite achieved IMO Type Approval in March, AMS acceptance in August, and we are on course for U.S. Coast Guard Type Approval. Now, alongside our partners at Damen, we are pleased to announce this order for Atlantic Towing."
When launched, the vessels will operate in the challenging, subarctic waters of the Hibernia and Hebron oil fields, off Newfoundland and Labrador. "These PSVs will be sailing in extremely tough conditions," explains Jan van Hogerwou, manager North America, Damen Shipyards Gorinchem. "The Trojan Marinex system has been tested and approved in tough conditions and under stringent protocols. This was an important factor in our decision."
Trojan Marinex BWT system testing was conducted under the supervision of DNV – a certified Independent Lab (IL) by the United States Coast Guard (USCG). Testing was conducted in accordance with United States Environmental Protection Agency (USEPA) Environmental Technology Verification (ETV) Ballast Water Protocol. The ETV protocol is a key testing requirement for systems to obtain USCG Type Approval. The system is tested and approved to the lowest UV transmittance value in the industry under full flow conditions, and in all three salinity ranges – fresh water, brackish water, and marine water.
"In addition," continues van Hogerwou, "we required an extremely compact ballast water treatment system for these vessels. We were quite impressed with the integrated design of the Trojan Marinex system, and its low power draw." The Trojan Marinex BWT system is up to 50% smaller than others in the industry. This provides additional installation flexibility for both new builds and retrofits. In addition, it offers the lowest installed power draw of other systems in the industry.