ACI's 22nd Ballast Water Management Summit (Feb 27-28, 2019 in Singapore) will provide essential guidance to shipowners on successful system installations.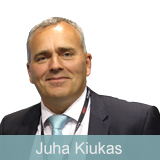 Juha Kiukas (our European Sales Director) is part of the speaker lineup on day 1 of the event. During his presentation, titled Improving BWT Installation Flexibility via New Innovations, he will discuss how innovations, such as inline lamp drivers and an integrated flow meter, enables a significantly more compact ballast water treatment system and streamlines the installation process.
We look forward to seeing you in Singapore!